The year 2020 threw more than just a handful of curveballs in our way. A deadly virus came along and completely overhauled our normal routine, as we knew it. While we quickly learnt to adapt to this new way of working and living, another critical issue came into the spotlight – mental health. The constant need to be logged in, minimal to no social interactions and the mere thought of stepping out that created panic, added to the already-fragile work-life balance. This new dynamic we are all facing can aggravate numerous mental health issues, including burnout. Burnout is defined by the World Health Organization (WHO) as a syndrome resulting from chronic workplace stress that has not been successfully managed.
However, it is interesting to note that this has not dampened the innate human desire to travel and work from a remote environment. Since the announcement of Unlock for gradual resumption of travel and local businesses, people have started to venture out for short vacations to convenient and drivable destinations. At the same time popular sentiment is inclined towards staycations and working from a hotel that provides a safe, comfortable yet refreshing environment. A number of studies have shown that taking time away from the job can have physical and psychological health benefits. People who take vacations have lower stress, less risk of heart disease, a better outlook on life, and more motivation to achieve goals.
According to a recent survey by Airbnb on latest travel trends for the upcoming year, 62 per cent of people expressed interest in taking a vacation that is closer to home showing preference for natural environments that have more open spaces. Young professionals are actively seeking staycations at hotels and alternate accommodations that offer various incentives like discounts on room packages, complimentary pick up and drop off services, or even pet-friendly rooms and amenities. Trends such as travelling closer to urban locations, business parks and working from anywhere will continue to see the interest of these young working professionals.
Going forward, it will be vital for hoteliers to adopt an even more guest-centric approach and excel in providing on-demand services to visitors. A hotel stay is not just about traditional hospitality experience anymore, it is about being agile, transforming using digitization to provide value-added services to guests. Time spent away from work desk is equally important to boost productivity, and today, a hotel's environment and ambience must demonstrate that change for guests seeking down-time.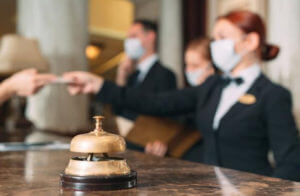 Today companies encourage their employees to take time off to rejuvenate as it not only benefits employees but also improves productivity in the long run. In response to this trend, hoteliers have implemented comprehensive safety and hygiene measures to make guests feel safe and have a memorable experience. Hotel chains are also investing in smart tech equipment and enhancing their bouquet of wellness services to ensure that guests are able to work and relax when they've checked into a hotel. At Chalet Hotels, we are in the process of implementing keyless mobile check-in option where guests across all our hotels can directly walk to their allotted room and can open the door by using keyless mobile check-in app. Guests will also be able to view and sign registration card and guest folio on the iPad screen through our digital check-in facility. Our hotels have introduced "VSERVE" which allows fully contactless services by digitalizing E-Menu & E-Ordering using QR code, Room directory, TV guide, IRD, spa booking, laundry pickup, concierge services, welcome letter and hotel info along with an integrated digital payment wherever it is required. This is an ongoing initiative in all the Marriott properties.
With the current regulations in place, it is essential for travel, tourism and hospitality industry to implement stringent measures that ensure all-round safety for guests and employees. As a result of this, hotels are investing in enhancing their preparedness through advanced technological solutions, refined skill-sets, and a safety-first approach to stay ahead of the game.